Word Swipe : Word Search
Word Puzzle – Can You Find all the Hidden Words
Do you like solving crossword and teleword puzzles? Do you have a keen eye for finding hidden words? If yes, then this word puzzle is a great game for you. Word Swipe – Word Search is a fun game in which you get to find out words hidden in a pool of alphabets by swiping your finger over them. It tests your observational skills and requires you to pick out entire words from the puzzle. The words that are to be found are displayed on the top of the screen. Once you have found all the words, you can move on to the next level. However, do keep in mind that you don't have much time to find the hidden words.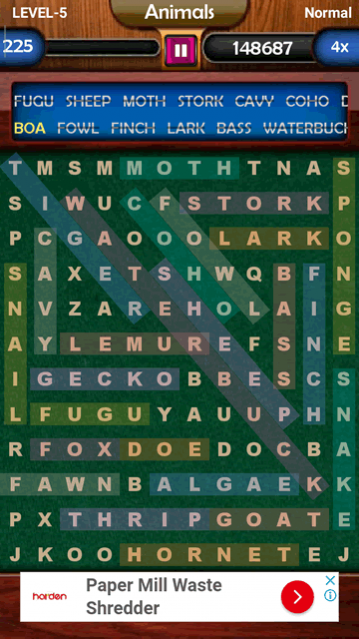 Word Swipe – Word Search has slick gameplay which is perfectly aided by beautiful graphics. You will get addicted to it right away. This is down to its simple controls. You just have to swipe your finger horizontally, vertically or diagonally after you have found the hidden words. The word you find would be colored, indicating to you that they have been found. Moreover, the list of the hidden words on the top would also strike out the words that have already been searched. This way, you would know which words are remaining. It can be a little tricky to find the words in the beginning but you will get better at it after you have played a level two to three times.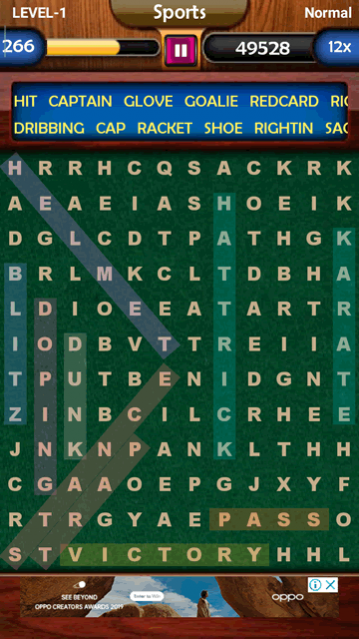 This word puzzle provides multiple word packs to you. Each word pack is based on a different topic. For instance, the topic for the first word pack is animals. So, the words you have to search for in this word pack mostly belong to the animal kingdom. Only one of the word packs is unlocked at the start of the game. You need to unlock the other word packs by completing the previous ones first. Each word pack has a total of nine levels. All of these levels are challenging and require you to be on the top of your game if you want to complete them. Another reason why the levels are challenging is the limited time you are given to find all the words.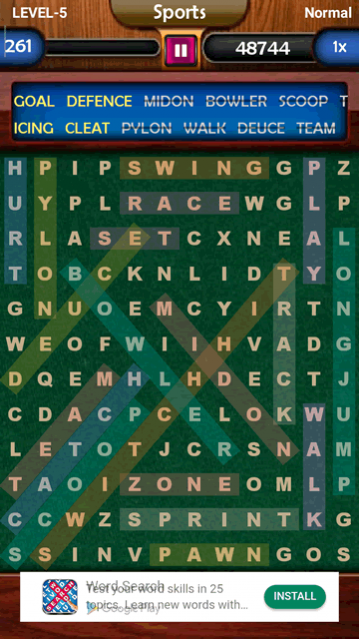 Word Swipe – Word Search gives you the chance to compete with other online players. There are leaderboards available which show where you rank in the world. In order to go increase your rank, you need to score as high as possible. You can raise your score by finding the words quickly. There are bonus points up for grabs if you are able to find multiple words in quick succession. A good tip for finding words quickly is to start your search from the corners of the frame. You will find many of the words in the corners quite easily. This would save you time and also help you in scoring some bonus points too.
Features:
Multiple word packs to choose from
Nine challenging levels to complete
Four difficulty modes on offer
Packs have words belonging to various topics
Compete with online players all over the world
Swipe finger on words after finding them
Find all the hidden words as quickly as possible
Limited time available for finding words
Get bonus points for finding words in quick succession
Earn stars and ratings for completing each level
Supports multiple languages
Conclusion:
Word Swipe – Word Search is a gaming app which is aimed towards people who have an interest in doing crossword puzzles. It provides them the chance to search for words hidden inside a maze of alphabets within a limited period of time. It is a nice word puzzle and you would love solving it in your spare time.
---
Add a review
Tell us your experience with
Word Swipe : Word Search
RELATED PROGRAMS
Our Recommendations
---
---
---
---